My heart hurts. I can't even imagine going through something like this, or my child going through something like this. What her mother must have been going through all those years. I am watching Diane Sawyer interview Jaycee now. It is hard to watch knowing what this young woman went through as a child. Bearing two children in a tent in the back yard. How would you handle something like that?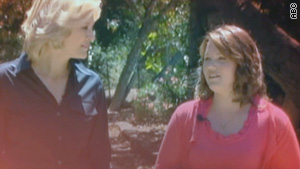 Jaycee Dugard, right, who was abducted as an 11-year-old, talks to ABC News' Diana Sawyer.
Can you even imagine living here.
The police searched Mr Garrido's house 16 times because he was on probation. They never even checked what was going on in his back yard with all of those small buildings and tents.
These are the two police women who thought something wasn't right with the two little girls who were with Philip Garrido who was preforming at Berkley university. Thank God for these two women who used their instinct and mothers intuition to check what was going on.
I can't understand how this went on so long. Who hires these parole officers? No one wants to take responsibility for this egregious injustice!
Jaycee looks wonderful and at peace despite all that she has been through for the past 18 years. I am sure she will need therapy for many more years. She has written a book, and that in itself is therapeutic.
This was a very good interview. Diane Sawyer interviewed Jaycee and her Mother. Chris Cuomo interviewed the police departments involved in this, as well as the officers who found Jaycee.
Kiss your children goodnight and keep them safe.
Susan