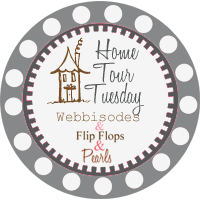 Good afternoon everyone! Today I am following Daphne from Flip Flops and Pearls girl, and Shannon from Webbisodes with their Home Tour Tuesday. The room we are doing is the Home Office.
My office is still a work in progress. When I am done, I will post the finished produce, but for now here we go, as is.
This is my desk where I do most of my work. Write notes, blog etc. My son gave me the desk when he moved into his new office. He wanted a more modern desk, so Mom gets the hand me downs. The shelves are from Ikea.
Since the room was already painted last year when it was a Guest room, I really didn't want to paint it again, or lets say, my hubby didn't want to paint it again. Now on the other side of the room is my craft desk. This is where I scrapbook and craft things. I am looking for a large bulletin board. I have recently discovered on some other blog sites some ideas on making one, so I think I will try it. That will go next to the shelves.
I am going to paint this chair white and put a cushion on it after I find the drapes I want for the room. I think it needs a pop of color and I was thinking of lime drapes, what do you think?
And of course I had to add pictures of my sweet Grand kids, Megan and Connor.
I found this cute picture at Home goods. I thought it was just girlie enough to add to the Ladies office.
This picture was from our 25th anniversary trip to Las Vegas. Oh, yes, that was my body from way back, never!
This picture was way way back when the kids were first going to school. That was when we only had two children so far, Jp and Stacy. Their principal called and asked us to do a photo shoot for the local newspaper on going back to school days. It was so much fun. I just wish I knew enough back then to call the newspaper and ask for a copy. That was my first Lilly skirt and top!
Well that's all I have. I hope you enjoyed my office tour. Hop over and join all of us. It is so nice to get ideas from everyone. It's our sisterhood!